Artemis Institute

Organization Information

Leader
Location

Bôme - Pharenós

Debut

Manga

Chapter 3
The Artemis Institute is one of the biggest sorcerer organizations in the Bôme region. It's one of the few areas that are not in control of the Inquisition.
Description
The Artemis Institute is a giant floating city. It has a giant cat head on the top of the city has a symbol of their king Lord Majesty. It houses thousands of sorcerers that live, learn, and research the nemesis as well as study curses and how to cure them. Living there costs a fortune and more debt that a person gets the more they will have to work it off.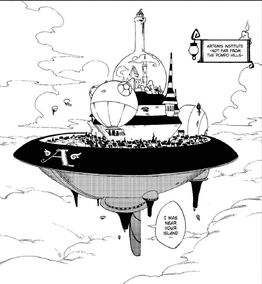 Members
Trivia
Community content is available under
CC-BY-SA
unless otherwise noted.